Auto Supplier Faurecia Opens $30m Auburn Hills Headquarters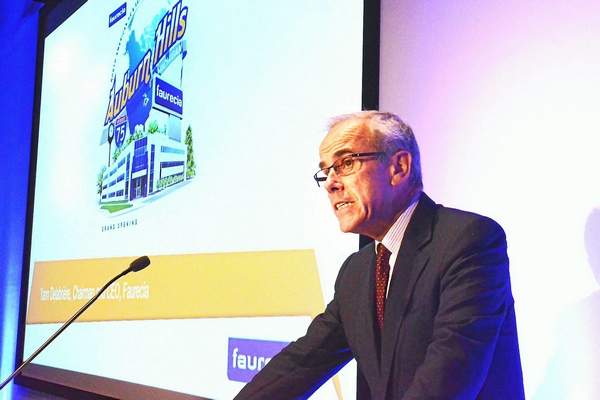 By Dustin Blitchok, The Oakland Press
AUBURN HILLS >> Faurecia, one of the nation's largest automotive suppliers, has invested about $30 million in new North American headquarters near University Drive and I-75 where about 700 employees work.
The French company has about 100,000 employees worldwide, and North American sales totaled $6.25 billion last year, or one-third of the supplier's business.
The Auburn Hills headquarters and automotive seating technical center is "a key milestone in our development in North America and worldwide," Faurecia Chairman and CEO Yann Delabrière said Wednesday.
Seats and interior components for Faurecia's automotive clients are developed and tested in labs at the three-story, 278,000-square-foot building on High Meadows Drive. The company moved employees to the new facility from other locations in Auburn Hills and Troy.
Michigan Economic Development Corporation CEO Michael Finney said the state is home to more than 375 research-and-development centers.
"We've never had the focus on growing the auto sector that we have now."
Finney said that when his son graduated from college, he told his father he wanted to work in the auto industry because of the technology that's developed in the field.
Oakland County Executive L. Brooks Patterson said employment growth in the research-and-development side of the automotive business shows progress in diversifying Oakland County's economy.
"Innovation is clearly driving the success of this company," Patterson said of Faurecia.
The R & D work Patterson referenced was visible in the large, bright labs at Faurecia that work with everything from prototype construction to endurance testing.
Christopher Kus, 33, of Troy, conducts noise, vibration and harshness testing at Faurecia. Seats and even entire cars can be moved inside a room where the walls and ceiling are covered in dozens of perforated sound-deadening cones that bring noise levels to about 0 decibels.
When someone steps into the room and closes the door, their voice sounds different and even their balance can be affected by the deadened environment, which is used to evaluate the sounds made by parts such as seat motors.
"You can't hear any quieter than this lab," Kus said.
A dummy wearing a binaural ear, or microphone in each ear, sat strapped into a car seat in the room. Engineers consider factors such as how the window near a driver's head, a "near field," affects their perception of sound.
In the company's pilot building lab, employees work on products that are being developed for manufacturing at plants as close by as Sterling Heights.
At the 23,000-square-foot validation lab, a small robot repeatedly pulled a headrest up and down to test its life cycle, something it will do 9,000 times. Another hydraulic robot nearby was applying a load to a seat to test fatigue.
Products are placed in environmental chambers to test them at temperatures ranging from minus 40 to 85 degrees Celsius, or minus 40 to 185 Fahrenheit.
The company's metal shop builds prototype seats and components hands-on from engineering blueprints. Manager Jerry Lambert, 57, of Lake Orion, has worked at Faurecia for more than two decades.
"When I started here 24 years ago, there were only 18 (employees) in North America," Lambert said. The company now employs more than 20,000 people at locations in the United States, Canada and Mexico.
Auburn Hills Mayor Kevin McDaniel said city officials have been looking forward to the opening of Faurecia's new headquarters ever since approving the project last year.
"It's great corporate citizens like Faurecia that make Auburn Hills a great place to live, work and play."